Cargo baskets for SUV are starting to come back. While in the past they used to feature on many vehicles, in the last 20 years they have gone away.
Furthermore, with growing living costs and sports utility vehicles getting more expensive, people are trying to do more things with their cars. They also want to be able to carry larger loads, and these cargo baskets provide the ideal solution.
These containers are usually strapped to the roof of the car. They can go on most roof rails and longitudinal bars. Manufacturers of cargo baskets make their strapping system as universal as possible, so you can keep it when changing cars.
We have also seen cargo baskets strapped to the rear hitch of different vehicles. This is another alternative for mounting cargo baskets. We think it is a good alternative because of the space saving it offers.
Cargo baskets for hitch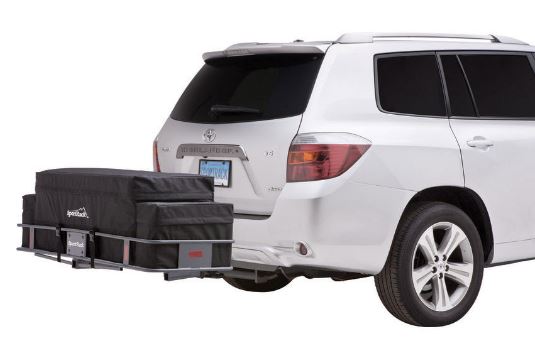 These are the latest type of storage baskets on the market. Using the rear hitch as a mounting spot for different racks is a relatively new idea. But it is a very good idea as it brings with it a lot of advantages.
First of all, it does not interfere with current storage space. For example, you can install storage baskets in the truck bed. But that just reduces the space that bed currently offers. Yes, it works as an organizer, but not as a space extender. The hitch mount does work as a space extender.

Using the hitch to mount stuff is pretty straightforward. For example, if you install roof racks, you will have to adjust, measure and readjust. Alignment will also be critical. So there is some work before actually strapping a roof rack onto the car. The hitch mount is much simpler to align and strap things to it.
There are also some disadvantages you will definitely have to take into account when mounting carrying baskets on a hitch.
Vibrations and different shocks when driving. While the structural integrity of the basket will be ok and will not be affected, what you carry in it might be. Either you package well if you have fragile belongings ( for example glass jar) stored in the basket, or try and carry less fragile items in there.

Sometimes it will be difficult to open the trunk. Because trunks can open at different angles and in different ways from one car to another, the hitch support might interfere. This is definitely something to think about in the cargo buying process.
Focus on buying a support that provides enough storage space for your items, while maintaining easy access to your trunk in the process.
Recommended cargo baskets with hitch mounting
CURT Basket Style Cargo Carrier Hitch – Check the price on Amazon Now
The sides of the frame are up to 6″ in height to allow for lateral support.

Allows for extra storage space to be created beside the interior luggage spaces.

Heavy-duty tubular construction with folding shank included. 

Angled shank type of basket for extra ground clearance at the rear
Cargo baskets for roof racks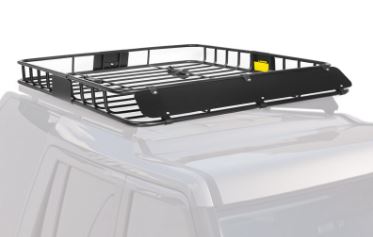 As the name says, such supports are mounted on the roof of vehicles or SUV's. This has been the classic place to mount cargo baskets in the past. It is somewhat understandable why most manufacturers have chosen to go down this path, as it does provide some advantages.
The roof of the car is probably the least used space on your car. Therefore, strapping a cargo basket to the roof seems like a good thing. It will not interfere with most things you do with your car.

Usually, the roof of your car is long enough to fit a decent size container on it. The storage space it can provide is quite large. Just imagine how much new luggage space will be created this way.

These storage baskets will also accommodate sports items and generally, a lot of things you probably did not imagine could be stored on the roof of the car. The grill design lets you work your imagination and strap different things to it. Buy a bag of zippers and keep it with you. They will be useful.
There are also some downsides to using roof cargo baskets.
The biggest problem, just like with other roof racks, the speed you do on the motorway. You will have to travel at a slower pace and gas consumption will increase. It's just how it works with roof supports.

Fitting heavier objects will be more difficult, considering that you will have to lift them all the way on the roof. With a bit of help, this won't be that difficult.

Last but not least, strapping things securely is mandatory. I would not call this a downside, but you will need to pay attention to this aspect. Otherwise, you might end up damaging other cars, or worse, hurting someone.
Our choice for roof cargo baskets
CURT Roof Rack Cargo Carrier – Check the price on Amazon Now
It provides extra storage space beside the interior space. 

The usable cargo space increases by almost 11 sq ft.

You can mount this support to most roof rails available on the market today.

At approximately 30 pounds it is very light. 
ROLA 59504 Rooftop Cargo Basket – Check the price on Amazon Now
A more sporty and aerodynamic approach to rooftop cargo baskets

It features universal mounting elements and hardware. 

You can mount it to most round, square or OEM rooftop racks and rails. 

It is a bit on the heavy but it has a very durable construction.
How useful was this post?
Click on a star to rate it!
Average rating / 5. Vote count: